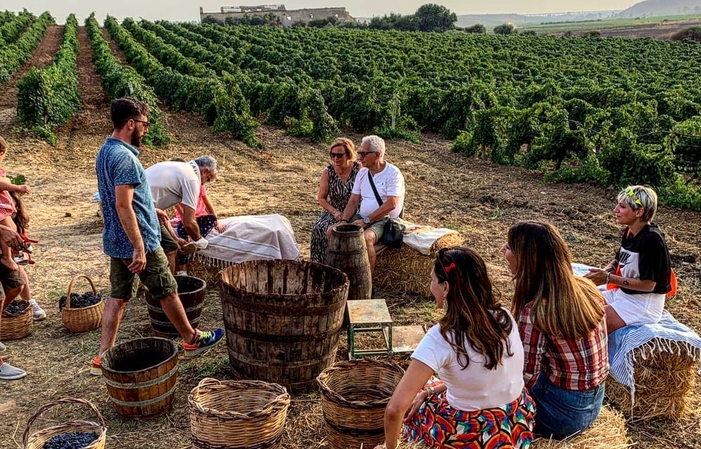 Description
Our company was born in the 1930s, located in the west of Sicily, in the province of Trapani, the most wine-growing in Italy, in an area between Petrosino, Mazara del Vallo and Salemi, extends over an area of about 40 hectares.

Currently Matteo Paladino, grandson of the founder, follows in his father's footsteps and represents the third generation.
He will be delighted to welcome you to the estate, in order to tell you the 90 years of history of the family and that of the estate. You will have the chance to discover the beautiful landscapes of Italy while being able to taste one of the wines of the estate.
Rules and conditions
The visits indicated at the rate of 1 € mean that they are carried out free of charge by the winemaker. This amount is requested to ensure the seriousness of your request and avoid the winemaker blocking a visit slot unnecessarily. If the tasting has satisfied you, the purchase of wine (on site or in home delivery) will reward the work of the winemaker! We encourage you to purchase at least one bottle when a visit/tasting has been offered to you free of charge.

In case of cancellation, we thank you for cancelling your visit to the platform, which will immediately notify the winemaker.

The confirmation of your reservation by the winemaker is imperative to validate your visit.
Reservation policy
Cancellation policy: : Strict
Products offered for tasting:

Our company was born in the 1930s, founded by Matteo Paladino, a tenacious man who was among the first to recognize the potential of the wine market and used his knowledge in the agricultural and entrepreneurial... See more
Our company was born in the 1930s, founded by Matteo Paladino, a tenacious man who was among the first to recognize the potential of the wine market and used his knowledge in the agricultural and entrepreneurial field to create the foundations. Currently Matteo Paladino, grandson of the founder, follows in his father's footsteps and represents the third generation. See less
Languages French