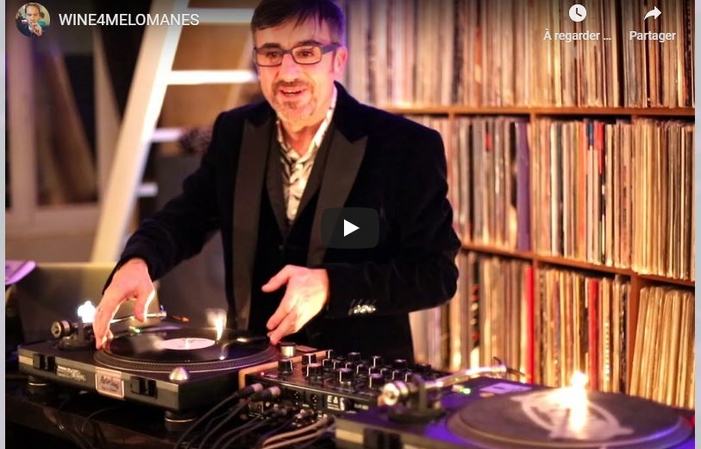 Description
I propose a moment of playful, intimate and cultural sharing, hedonistic in a typical traditional shop renovated in loft with apparent cobbles.

This characterful setting located in the heart of Bordeaux, is the instrument ideally designed, to allow me as a DJ artist producer sommelier to discover the mysterious Wine4Melomanes: my two mixed passions, wine and music.
The art of receiving in the French way, we are surprised by a welcome where the first glass served will be an innovative biodynamic cuvée from an atypical vineyard, while tasting a great vintage olive oil of character.

A black vinyl musical patty radiates jazz magic highlighting the deep, hushed relief of the moment. No more than eight guests received per session to enjoy this unique trip, around four regional wines, four different appellations, selected after a visit of the estates and a meeting of each winemaker for their ethical biodynamic approach as well as the quality of their terroirs. Their contemporary vintages are precisely tuned according to the Wine4Melomanes concept, to four original vinyl-engraved musics selected from the vast collection of 10,000 pieces in stock on site, in order to honor the sensuality of each wine.

The Hifi broadcast supports the atmosphere of the ephemeral, private wine bar. A dynamic game between the hosts and the DJ sommelier is played in the image of a "blind" test of listening to several musical excerpts, before determining together the most illustrative composition of the sensuality of wine.
(click and watch the video of a multi-sensory workshop at the Cité du Vin de Bordeaux)

Four of Deruelle's fine-tuned cheeses crown the tasting in perfect symphony. They will make your appetite blossom into a transcendent sensory poetry in order to perfect this rare moment. (click to visit the Deruelle cheese factory website)
Whether you have knowledge of wine or music or both or just amateur, if you're curious, you'll want to live this exceptional experience innovative.

You will amplify the pleasure of tasting a wine with a poetic dimension in eurythmia, sublimating your emotions, your inspiration, your sensations accompanied by the innovative discovery of the suggested musical chord.
Rules and conditions
4 wines-4 Deruelle-4 vinyl cheeses: the set tuned including aperitif cabernet franc and Andalusian olive oil

booking required
Reservation policy
Cancellation policy: : Strict

As a wine and music enthusiast, I created the Wine4Melomanes concept which allows me to express in my creations through the following activities: -DJ producer / DJ producer - oenological presenter of... See more
As a wine and music enthusiast, I created the Wine4Melomanes concept which allows me to express in my creations through the following activities: -DJ producer / DJ producer - oenological presenter of chosen wines - sound / MP3 playlists for your places, shops and for your evenings, dinners or tastings - sound system for private parties / sound system (dubbing) private parties - wine tasting event / special event management of tastings of wines See less
Languages French English