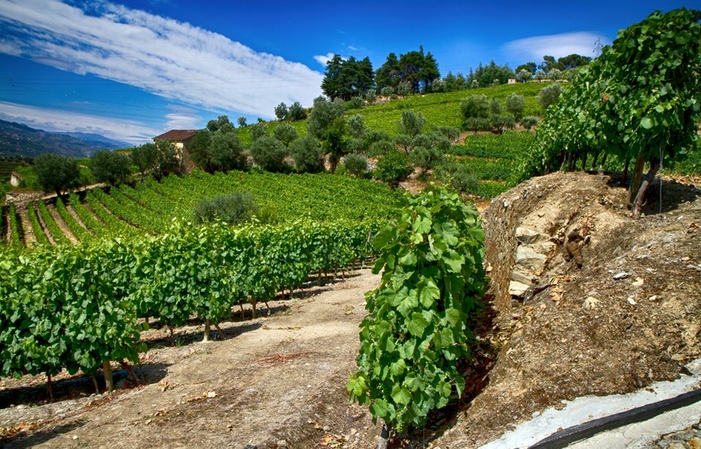 Description
Douro Valley has one of the most stunning landscapes in the world, rich for its sinuous terracing, a place where man overcame the land slopes for the planting of vines, and today this region is considered a World Heritage Site.

Our tour introduces you the Douro Valley through some of its most beautiful landscapes. You will have the opportunity to taste some of its products like: olive oil, honey and wine in selected estates, especially to show you the best of this region in terms of tradition, uniqueness and quality. In the village of Pinhão - heart of the Douro valley - we will invite you to experience the magnificent landscapes on an optional one hour boat trip**, along the river and then we will show you the historical railway station, well known for its 24 tile panels portraying the Douro landscapes and aspects of the traditional harvest.

Throughout the day, you will experience the Portuguese gastronomy and awarded DOC and Port wines, blended with knowledge, relaxation and fun!

Itinerary:
-Pick up from your hotel
-SABROSA
-CASAL DE LOIVOS
-PINHÃO
-RÉGUA
-Drop off at your hotel

**Please note: The the boat trip is not included in the price of the tour. Guests may decide to participate in the cruise on the day of their tour for an additional fee of 10€ per person.
Rules and conditions
-Minimum 2 people required for booking.
-Guests must be over 18 years old in order to drink.
-No eating or drinking alcoholic drinks inside the vehicles.
-This tour is not wheelchair accessible. Accommodations for other disability types may be possible with notice.
Reservation policy
Cancellation policy: : Strict
Complementary information
Wine Tasting
Number of bottles : 6

Food and wine pairing

Wine tasting education

Wine brochure

Ability to buy bottles
Practical Information
WiFi

Smoking

Accessible property

Cooltour Oporto is a tourism and cultural animation company with a young and dynamic spirit. Our mission has one main purpose, to promote and show the real Portugal to our clients in a genuine and passionate... See more
Cooltour Oporto is a tourism and cultural animation company with a young and dynamic spirit. Our mission has one main purpose, to promote and show the real Portugal to our clients in a genuine and passionate way. With our excellent tours (pedestrian or van) and circuits we guarantee unforgettable experiences and the unraveling of all the imaginary around the Portuguese Heritage, from Palaces and Castles to unique Gastronomy and Hospitality, Rivers, Valleys and Beaches, an endless number of natural parks and mountains, all with the same denominator: the beauty and charm that surrounds Portugal. Our approach to culture is always complemented with recreational and funny relaxed moments, with a very genuine and innovating twist. Our core business is unique 9 seat van tours but we also organize any kind of cultural tours, outdoor activities and teambuilding events for companies. We invite everyone to know and discover everything Portugal has to offer… Our commitment is to provide extraordinary and special moments based on any idea or personal desire, from a professional and corporate level to a motivational and personal concept. To follow up and implement projects, actions and other initiatives that concern the promotion, sensitization, (in)formation and environment education, CoolTour Oporto ensures unique moments, considering our greater asset: the Environment. We propose you the unprecedented, an escape from the day to day life and the experience of new sensations. Push yourself to the edge and surprise your friends, partners and, who knows, even yourself! See less
Languages English FrenchSpanishEnglish